Red Lace Dress – A Lovely Women's Clothing for All Occasions
Women love their dresses. They love to go out and hang out with friends, go shopping, strolling or just do about anything while donned with a lovely outfit, especially a red lace dress. Lace dresses in general are almost always very versatile and would look good on whoever wears it, wherever that person may go and whatever the occasion may be.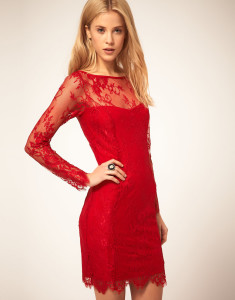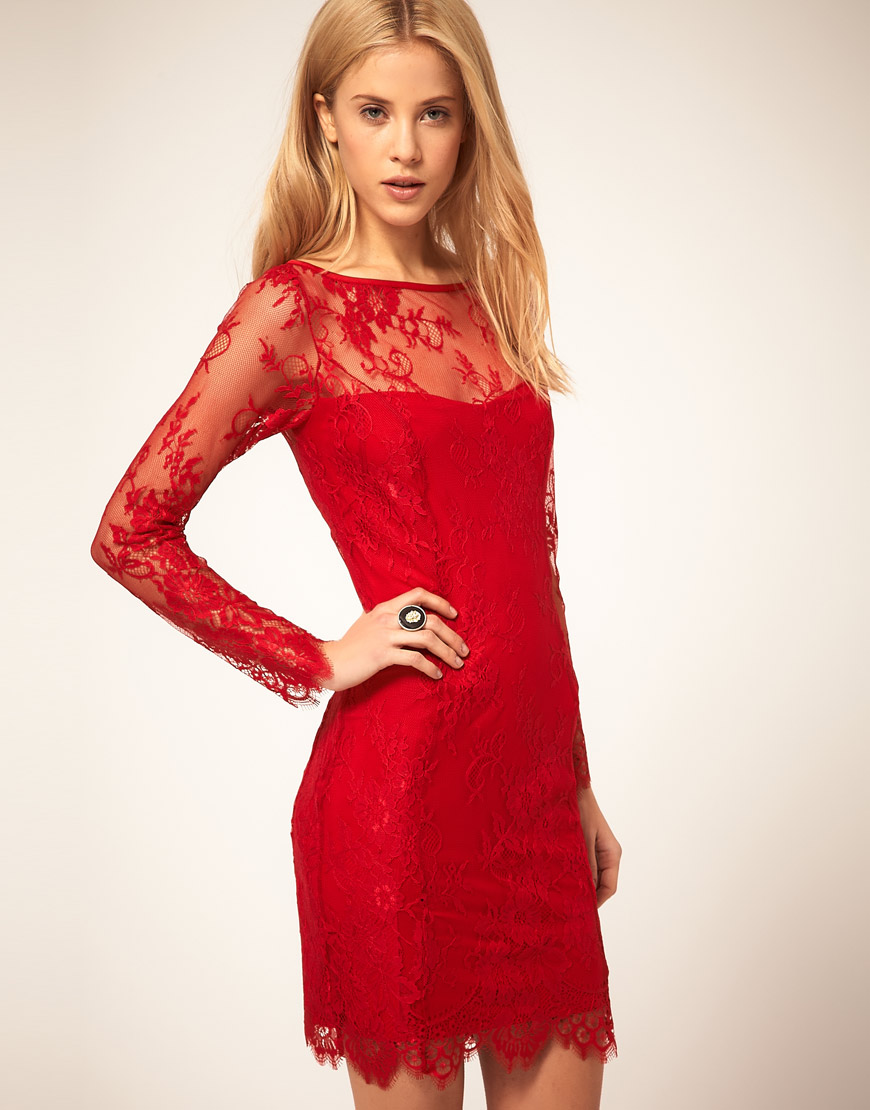 But what are the things that a woman could do with a very beautiful and vibrant red dress with matching colored laces? Where could one choose to go when wearing such a wonderful piece of clothing? What could complement the dress itself and what are the accessories that you could wear with it? How does a person take care of such a wonderful but slightly delicate dress? All these questions and more will be answered all throughout this article.
Styling with a Lace Dress
There are virtually endless possibilities a person could think of when it comes to styling and wearing a red lace dress for any occasion. There are also a good number of different accessories and jewelry that would go along with it. When it comes to styling a red dress with matching red laces, one could follow the following tips:
For starters, when a woman goes to a formal occasion such as a gala, a ball, a movie premier night or any red carpet event, that individual will almost always must carry a small clutch bag along to place some important things like wallet, phones and keys. When it comes to the type and color of clutch bag to use, one can have a dark colored clutch bag, one that would be in contrast with the red color such as black. For some, black would be the ideal color to go for when it comes to clutch bags when they wear a red dress. It would also be ideal to use a simply designed clutch bag as to not take away the attention to the lace dress itself.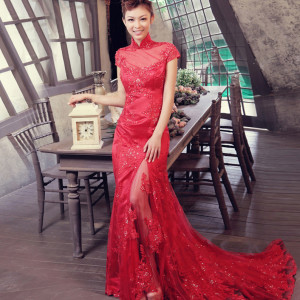 Accessories and Jewelry
When it comes to accessories such as bracelets, one could also choose to wear lace type bracelets as to go along perfectly with the lace dress. However it should always be good to remember to use a different color for the accessories as to not take away the attention from the other. In the case of a red lacy dress, a good color that would work well with it is gold and black. So it would be nice to wear a black and gold belt and gold bracelets when wearing a red dress.
The good thing about this color of lace dress is that the person wearing it can go for almost any kind of neutral colors for their accessories and would still look great. However one must remember not to use overly bright colored accessories as it would steal away the limelight from the elegant red dress that a person would be wearing. When it comes to earrings, a woman could also choose to have a pair with a simple design as to not take away the attention from the dress. One could choose to go for gold earrings along with other gold themed accessories or even have white pearl earrings to keep it simple yet charming.
When it comes to a red lace wedding dress, there can also be a lot of different accessories that one can use as well. For example, the bride can go for a red lace gloves with the red lace gown. Red lace gowns could also be mixed with other colors to add more life to the already elegant wedding dress. As mentioned above, one could never go wrong with mixing it with the color gold. The color white would also mix well with the red laces in the wedding dress to add more style. The red lace gown could also have white or gold sequence to add for the elegant effect.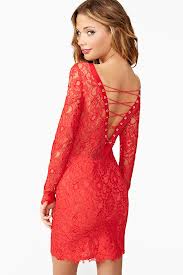 Footwear
Choosing the best kind of footwear to go along with a red dress made or covered in red lace would define how elegant and beautiful the outfit will be. So it is imperative that one would take this into a very deep consideration. As mentioned above, the color black and gold goes very well the red dress, so it would also be good to have a gold, black or a combination of both for the shoes. Nude shoes would also be a good type of footwear to use especially when a person would wear a short red dress with laces on it.
For red lace prom dress, the wearer could choose to wear red shoes or sandals along with other colors that would greatly compliment the red lace gown itself. For example, if the wearer chooses to wear a red and white or red and gold lace prom dress, it would be good to wear a pair of red and white or red and gold prom shoes as well.
Customization
Looking the best of the best when wearing a red lace dress does not only depend on the accessories, the footwear or even the dress itself. It also good to have a little customization on the part of wearer's own body to make that person even more beautiful on a red lace gown or dress. One can begin by using the right kind of lipstick that would complement the person's skin as well as the dress and the accessories. One very good thing to remember when selecting the perfect kind of lipstick to use when wearing red lace clothing is the color and tone of one's skin. Cool red lipstick goes perfectly well to people who have a pink and cool complexion while the dark red ones would go very well to those who have warm or golden skin complexion or cast.
The color of a person's finger and toe nails should also be considered especially when wearing a red lace mini dress in any kind of occasion whatsoever. If a person goes to an event wearing a full on, super dark red colored lace dress, it would be a good idea to use black or any other nail color as long as it would not go against the red colored lace dress as well as the color of the accessories that a person is wearing.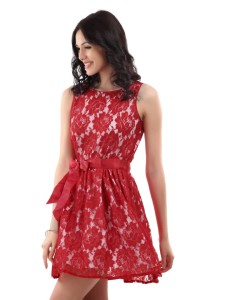 Proper Care
Lace dresses require a little more attention that any kind of fabric because a minor error can lead to the disruption of the integrity of the dress itself. If a red lace dress can be machine washed, one must make sure to go for the gentle cycle only as to not destroy the dress especially if it has elaborate designs and sequences. This is one of the reasons why most people would prefer to hand wash their red colored lace dresses using mild detergent.
When it comes to drying one, a good idea would be to let the dress go straight to the hanger to let it dry naturally rather than using the conventional dryer as it could end up damaging the dress. Twisting the dress to drain out excess water is also not advised for lace dresses as well as ironing it because it could lead to the destruction and burning of the lace fibers of the dress itself.