Fashion Tips on Wearing Black Lace Dress
A black lace dress is versatile because it looks romantic and elegant when worn to a date, formal occasion or fashion event. It is popular because it is easily accessorized. A short black lace dress also looks sexy, without being too revealing. In order to get the best effects with this kind of dress, it is necessary to observe the following fashion tips.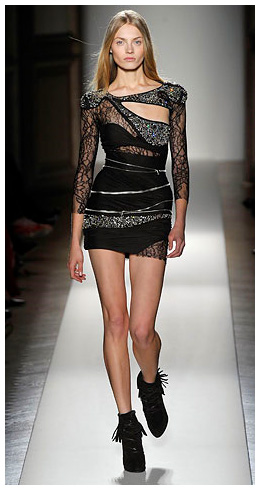 Body type 
The body type of a woman is categorized according to her proportion and not body size.
 When a woman's waist and shoulders bear the same width, she is considered to have a balanced body, is commonly referred to as having the hourglass figure.
A woman without a balanced body proportions can use a black lace dress to create the desired illusion. Ladies with hour glass figures are advised to opt for sheaths and Wraps because they emphasize their figures.
A pear shaped woman is one who has full buttocks and hips but smaller at the top. The most appropriate dress type is one with an open neck or strapless because they divert attention to her upper body parts. In order to camouflage her hips, full A-line skirts are recommended, while to accentuate her small waist Empire waists are ideal.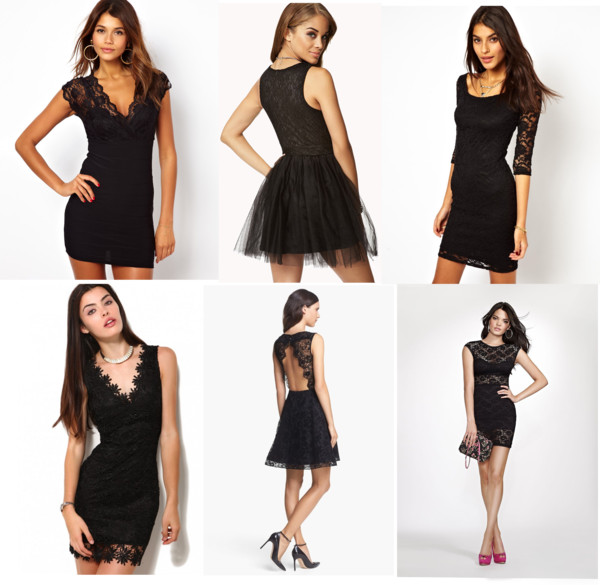 Full bust ladies have busts that are bigger than their buttocks and hips. Halters and V-necks are the best types of dresses because they make the woman look slimmer. High necklines are not recommended for such women, but they are advised to wear full skirts and A-lines, which provide balance and draw attention to their lower body parts.
Apple shaped ladies have rounded bodies with shoulders that look sloppy. The best types of dresses are the A-lines and full skirts because they offer an impression of balance and tend to accentuate natural curves. Athletic ladies look straight from the bottom to the top. The best types of dresses for such bodies are the strapless and backless dresses, and shifts and sheaths, which offer classic looks. A-lines and Empire waits are also desirable because they make the women look curvy.
Comfort 
Once a woman has identified the right dress for her body type, she should then select a fabric that molds properly to her body. This means that the dress should not pinch or inch her body. A woman's self-conscious feelings may prevent her from selecting a little black lace dress for fear that it is too short. It is important to note that this fear can be overcome with time, and should not prevent her from including the dress in her collection.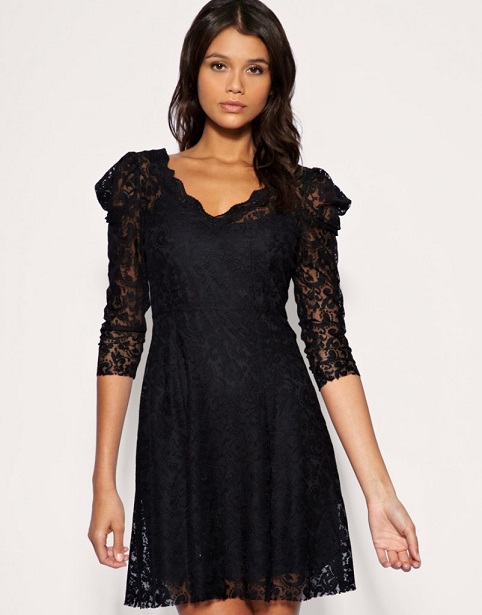 Color 
The complexion and coloring preferences are the determining factors to the selection of sexy black lace dress. Factors to consider include the color of the eyes, hair and skin tone. The color of the dress should brighten the eyes and fill them with life.
Occasion 
It is important that the dress to be selected depending on occasion. Formal occasions should be attended when wearing dresses of the right length to avoid overexposure of the skin. Strapless dresses are ideal in such occasions.
Dresses that are too tight are also to be avoided on formal occasions, but are perfect for causal occasions.
A red lace dress is popular with social occasions because of the association between the color and romance. This type of dress should be included in every woman's collection because it is ideal for dates.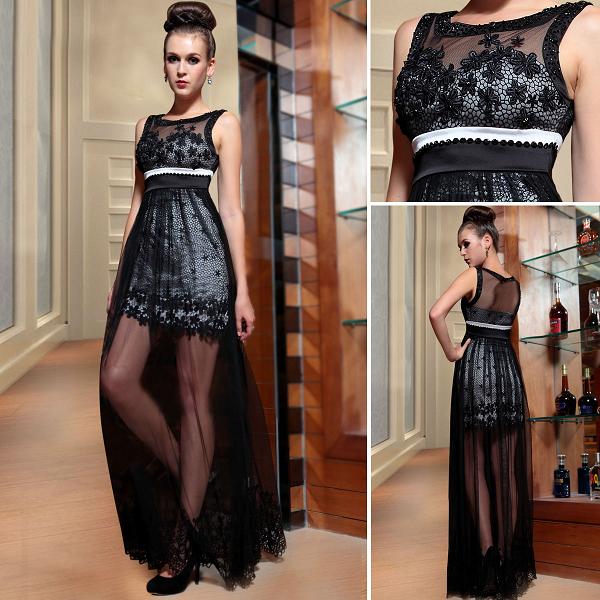 Accessories 
A shoulder bag or clutch is ideal with a black lace dress. The colors to select are red, white, gold and silver. Black should be avoided because camouflages the black dress. It is important to note that the dress is a fashion statement in itself and should not be worn with flashy necklaces or dangling earrings. A dress with a high neckline should also not be worn with necklaces because statement bracelet and stud earrings are enough accessories for such attire. When it comes to shoes, neutral colors are the best. These include red, black or beige. Pumps, stilettos and wedge sandals are best for these types of dresses. Extra bright shoes such as neon green, fuchsia or yellow should be avoided because they make a woman look cheap and wear away her elegance. They also draw attention to themselves instead to the overall look of the woman.
A black lace dress will never go out of fashion because of its elegant and sexy looks. Women are advised to strive for balance in their selection of these types of dresses in order to accentuate their best features while drawing eyes from features they intend to hide.