Lace can make any dress look graceful, and sophisticated, including bodycon dresses. A bodycon dress clings to the lady's body emphasizing all its contours, and makes the person wearing it look rather sexy. It is precisely for this reason that such dresses are not really appreciated amongst the sophisticated crowd. However, lace bodycon dress is acceptable even in such circles because of its delicate appearance, which apparently subdues its sexy overtones.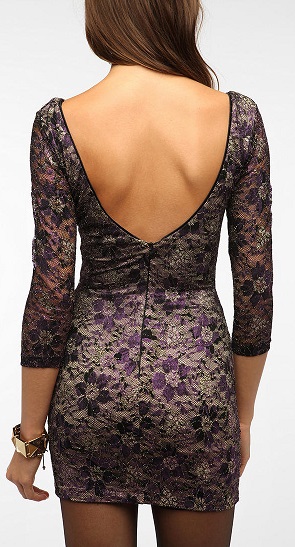 In case you are in the market for one, you will have to get a bit of information about the fashion item you are going to invest on. To help you get an insight about lace bodycon dresses and the available styles, this article has compiled all the necessary details for you.
Fashion Styles
Like any dress, lace bodycon dress is also available in different colors. Of these, black lace bodycon dress, and white lace bodycon dress are more popular than those made from other colors. Other colors that can be used to make these dresses include aqua blue, cobalt blue, orange, teal green, pink, mint green, light purple, dark purple, navy blue, light green, melon pink, ruby red, and lemon. Such dresses also differ in other aspects such as length, and style. Some of these are the following:
Full or maxi length
Mini length
Micro mini length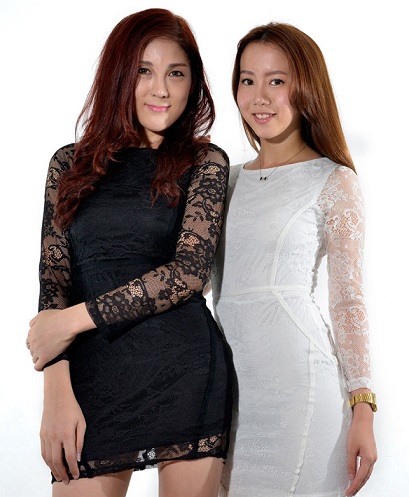 Bodycon Lace Dress Varieties to Choose From
Further fashion variations in these dresses are brought about by changing the necklines, neck types, sleeves, and lace designs. One of the most popular neck varieties in these dresses is the V neck, which may have a lace border ending stitched to give it scalloped look. A matching scalloped look usually exists at the hemline too with lace exceeding in length over the underlying cloth. Care is taken to select a cloth that matches exactly with the color of the lace, though white colored cloth can be covered with black colored lace. This underlying cloth, however, is quite like a strapless dress. The lace on the dress extends above the breasts to cover the rest of the chest and neck.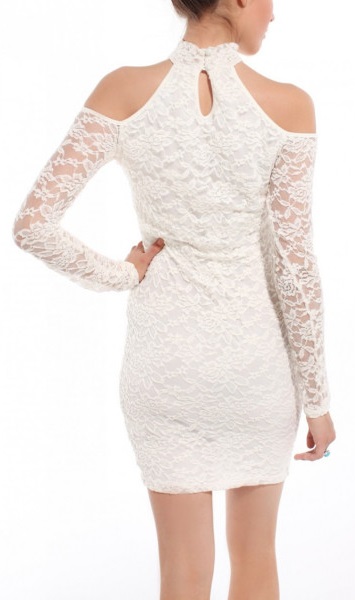 The back is also usually exposed up to the same level and covered similarly by the lace. However, there may be these dresses with back that is exposed more. Lace may or may not be used to cover most of the back in such backless varieties. Round necks are also not uncommon in these dresses. These usually go with cap sleeves. Most of these dresses have full length sleeves, or sleeves that are slightly longer than elbow length.
These sleeves are made of lace, and do not have the matching colored cloth lining them unlike rest of the body. There are many such dresses with single sleeve. Peplum variety of lace bodycon dresses is also available and popular.  The underlying cloth doubling as lining or slip to the large motif laces is usually shiny in nature like satin or silk. It is also stretchable and may be made from jersey.
Using Bodycon Dresses with Laces
Because these dresses do not completely suppress the emphasis on sexuality of the person wearing them, these may not be ideal clothes for office wear, or even casual wear. However, the peplum variety can be worn as a casual wear dress. Other dresses, especially the stunning ruby red lace dress hugging the body, are essentially used by people to attend parties or other functions.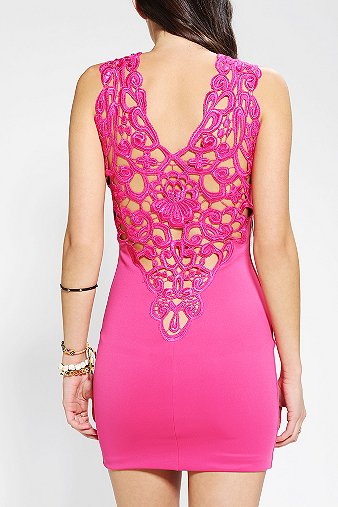 Conclusion
Every woman desires to look beautiful, and sexy. This is the reason every lady's wardrobe includes one lace bodycon dress in it. Such lace dresses including the slip beneath may cost anywhere between 45 to 98 dollars as of today.