Looking Glamorous in Pageant Dresses
It's the dream of every little girl and even older girls and women to dress up in pageant dresses and on the stage. For some, it actually happens, but while others can only stare in envy. Pageant dresses are elegant, sexy, or very extravagant. Made of almost all the nicest materials, sparkles, stones, or gems, coming in every color sometimes it's hard to pick which dress is best for you. In today's trend, dresses made of laces are so in and many women use them during beauty pageant such as red lace dress and white lace dress.
Fitted Pageant Dresses
Fitted dresses are not only dresses that are to fit your body type. But, the style of fitted dresses sits snuggly on your curves showing off your waist, hips, and bust. Fitted dresses are better for women and girls who are thinner or have an hour-glass shape. Most are long in length, so these types of dresses are very flattering on taller women.
They come in all types of colors, styles, with extra adornments. The trick is to find a dress that fits your personality. Do you want to look elegant and would you go for the ball gown look or one that is sexy with a slit? Do you go for a flowing look or mermaid look? There are dresses with low backs, high backs, crisscrossed straps, and no straps. These include sparkles, no sparkles, shiny material, fake flowers, and rhinestones.
Pageant Dresses For Girls
More girls are joining beauty pageants at a young age. Even schools are hosting them or help girls sign up for them. So that means you have to find those perfect pageant dresses for girls that are something a little more conservative than and not as sexy as an older woman's dress.
You can buy these types of dresses for girls at a number of stores. They are:
Prettyquinceanera
Pink Princess
Milanoo
Sophia's Style Boutique
So Sweet Boutique
Pageant Designs
French Novelty
Most of these dresses have spaghetti straps of 1 in or smaller or are in a halter strap style. They have all sorts of designs and colors and usually are floor length, most of them being the ball gown look with the flared gown bottoms. A good number are tiered with accents or adornments of sparkles and ribbons along with fake flowers and rhinestones and/or sequins.
Glitz Pageant Dresses
Glitz dresses are dresses made for the purpose of being shiny, sparkly, and catching the eye of onlookers. These are the dresses made with tons of accents and extras. You can buy them at a number of stores that consist of:
Zone4Kids Pageant Designs
RM Women's Fashion
Prom and Pageant Experts
Ebay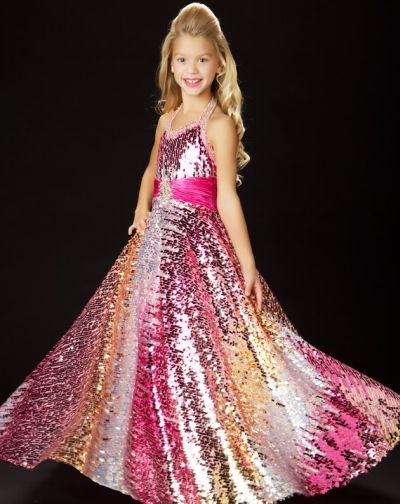 Making Your Own Glitz Dress
If you have time and you can sew, then you can make your own glitz pageant dresses for the competition. Just be sure to read the pageant guidelines so you won't get in trouble for your dress or the one you are making the dress for. Here are some tips to help you.
Pick a style that flatters your or your daughter's skin tone, depending on who you are making it for. The dress can match the eyes, which brings out the eyes or just a color that looks good on the person.
Choose a fabric that is practical and flattering. Lycra is a choice chosen by many.
Pick out all the "pretties" you would like to add to the dress. This includes any of these items: sequins, rhinestones, lace, beaded pearls, and flowers.
Before you start sewing, make sure the accessories match your dress in color. Then plan where they will go and where they will look best. Just play with it until you get it the way you like it.
Then, sew on the decorations using a hand needle and matching thread. Use fabric glue for the rhinestones and other items you can't sew on the dress. Try this ahead of time, not a day before the pageant, so if you mess up or it doesn't turn out the way you want it to, you can fix it or start over.
Now, you have your own beauty pageant dresses ready to go with your own personal touch to it. You can also help friends with their dresses or their children's dresses as well.