Red Polka Dot Dress For All Occasions
Red polka dot dress is a vintage style that seems to be always trendy and fashionable. It seems that it is a connection between the polka dots patter and the Polish traditional dance named polka. In United Kingdom the polka dots pattern became a common print on clothing in the late nineteenth century. Polka dots are also used traditionally as a print on the dresses of Spanish flamenco dancers.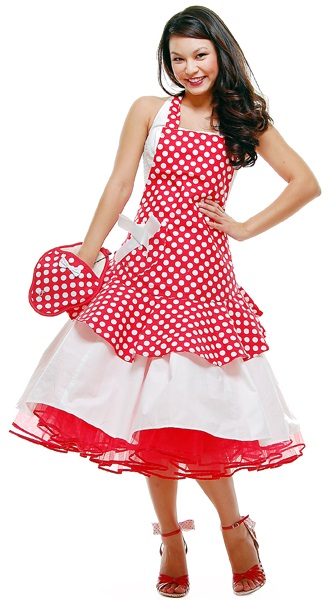 Polka Dot In History
The first polka dress that become popular on large scale was seen in 1926, when Miss America was photographed wearing a polka dress swimsuit. At short time after that event, in the year 1928, Disney Studios feature the cartoons character Minnie Mouse wearing a red polka dot dress. In the 30s this dress style started to be very trendy. The red polka dresses of the decade were enhanced with bows and nipped in by ribbons. Frank Sinatra launched his ballad "Polka Dots and Moonbeams" in 1940, expressing the height of America's passion for this outfit.
In the 40s Christian Dior fashion designer studio released his "New Look" collection, featuring hourglass dresses, inspired from the polka dot dress. The outfit has become popular with famous actresses at Hollywood, such as Marilyn Monroe, Lucille Ball, and Elizabeth Taylor. Marilyn Monroe was photographed in 1951 wearing a bikini in polka dot style. In 1960 Brian Hyland launched his hit song "Itsy Bitsy Teenie Weenie Yellow Polka Dot Bikini." Throughout the 60s the polka dot dress came back in vogue. The artist Yayoi Kusama featured dotted swarms in her paintings.
Despite the passing of time nowadays this outfit is as trendy as ever. Red polka dot dresses are great outfit for all occasions. It is versatile and it would suit well a party, hanging out with friends, or a shopping trip to the mall. Red polka dot dresses are fashionable, stylish, playful and sexy.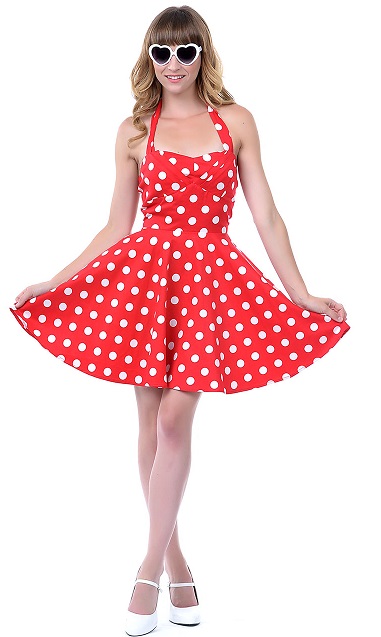 Accessories Matching The Famous Dress
There are endless possibilities for accessories that would be suitable with a red polka dot dress. Even a cheap red polka dot dress can look fabulous if matched with the right accessories. If the dress will be the outfit for a formal occasion, a small clutch bag in dark colors, such as black, would match well the red color of the dress. Accessories such as bracelets would go along well with the sleeveless red polka dot dresses. Bracelets in gold or black colors are also matching well the red color of the dress. Gold earrings would complete well a formal attire based on red polka dot attire.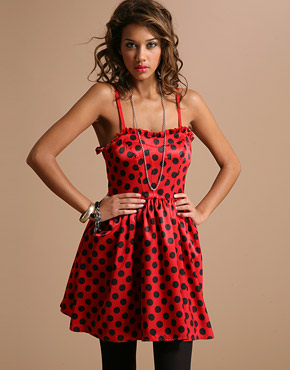 Variations of Polka Dress
There are many variations for the polka dress style because there is no rule or limitation on what color combination are used. You will find the popular red and white polka dot dress, or the red and black polka dot dress among teens and adults alike. Although there is no rule or limitations, most people and manufacturers will just stick to the basic color combination because polka dot design itself is already fancy and unusual color combination are only allowed in themed parties. The common characteristics of the polka dot style are:
Printed with the polka dot pattern which is consisting of an array of filled circles
A hourglass cut
Usually they are knee length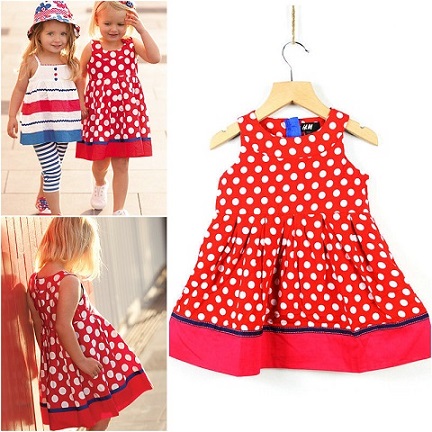 The red polka dot dress is always trendy and fashionable, stylish and sexy. Whether for a formal occasion or just for everyday use, polka dresses are a good choice for any women regardless of age and social status. It is a playful design that is suited for the younger generation but if you want to look sexy and alluring sometimes, then this is your best chance to do so.