Fun Ways to Wear Lace Jacket
A list of must haves in every girl's closet should include a lace jacket. Apart from a pair of denims, a little black dress, white shirt and a pair of comfortable shorts; one must own a lace jacket that will jazz up any outfit. This is one of the fool proof ways to add sophistication to any kind of clothes. The value that a lace fabric adds to the entire look is unbelievable yet real.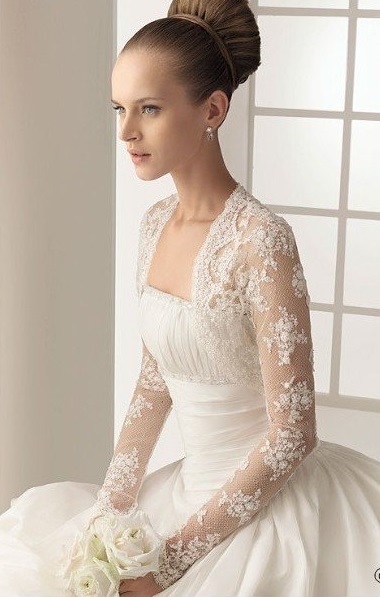 Here are some ideas to put together different kinds of lace jackets with other outfits to make you look more like a fashionista.
White lace jacket over a black high waist skirt
Combining the black high waist skirt with a white shirt is a very usual combination. However, combining the same black skirt with a white sleeveless crop top or a tube top and throwing on a white lace jacket with sleeves and peplum cut will increase the sophistication quotient several notches higher and the look is a very subtle yet fun look to jazz up an otherwise normal work day. However, one must be very careful while pairing lace jackets with outfits like red lace dress or a lace top because there is a chance of going over the top and running the effect. In such cases one must choose their jewelry, bag and shoes very wisely.
Plain black dress with lace bolero jacket
This combination is nothing short of perfect. If it is a well fitted dress with an extremely thin strap, then, nothing else increases its glamour quotient like a lace bolero jacket (both long and short sleeved). Choosing the right color of the jacket is very important and it is quiet safe to stick to the classic color like white, black, cream and deep maroon. Since lace jackets generally include a certain amount of embroidery, keeping the accessories minimalistic is a great way to make the look very elegant.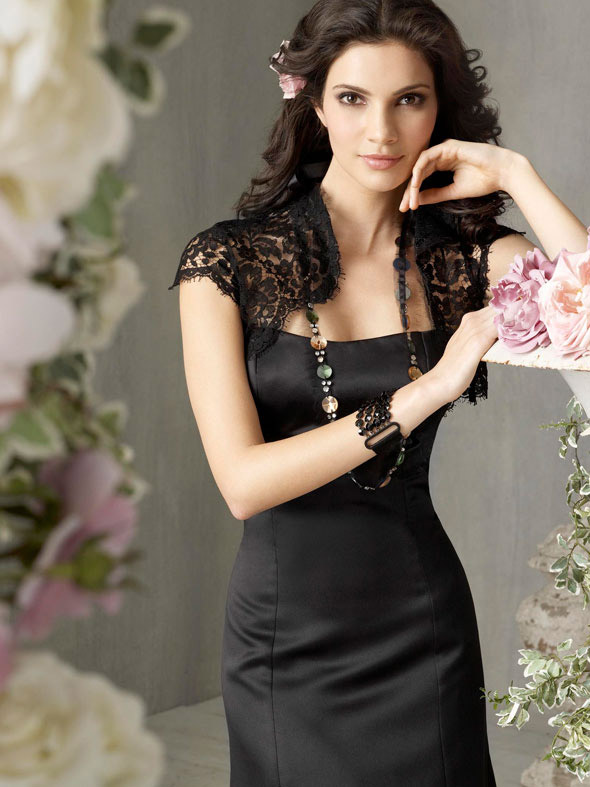 Lace wedding jacket with a plain white wedding gown
Simple, beautiful, elegant and breathtaking are some of the words that can be used to describe this outfit if executed in style. Pairing a beautiful lace jacket with a backless, plain gown or a noddle strap gown or a tube topped gown is a great way to add feminism to the dress. If one decides to opt for a simple tiara or a netted veil, then, this outfit can sure be talk of the town for several days.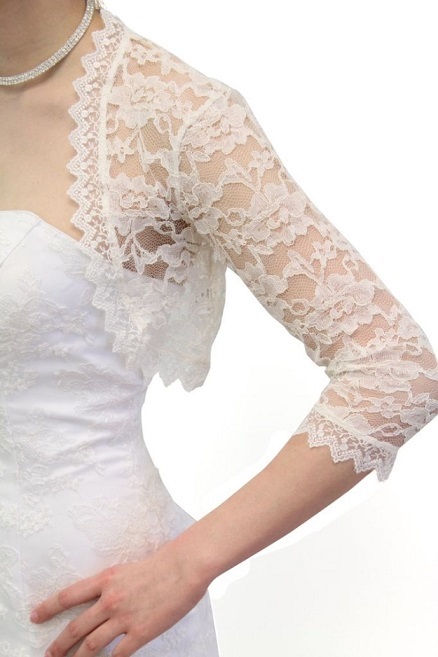 Lace motorcycle jacket with pleated skirt
If edgy, quirky and fun defines your sense of dressing, then, pairing a floral lace covering with a short, A-line, plain, pleated skirt will completely appeal to your sensibilities. If accessorized with a long gold chain with a heavy locket and paired with black ankle length boots or simple black/ ink blue shoes, then, a normal day out with the girls will get a lot more interesting with your outfit becoming a topic of discussion.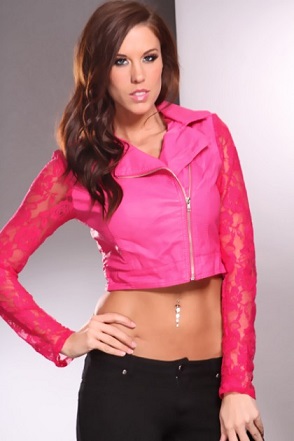 To add an element of fun to any outfit, lace as a fabric is an excellent option. However, there is always the danger of looking slightly heavier when the person is well endowed. In this case, one must be intelligent to select a lace sheathing which suits the body type by choosing the right kind of cut and sleeve length.
Having lace clothing as part of your wardrobe is a great investment especially when you need something to wear during events and parties. Lace will always bring out the softer side of a woman. It symbolizes elegance and grace and often associated to high class women. Always keep a lace dress or jacket to match your ordinary strapless and spaghetti dress.