The New Trend in Lace Maxi Skirt
The lace maxi skirt has come back with a ravaging entrance, and not just for one season. It's a versatile trend gives you a chance to wear them through all seasons and in various occasions.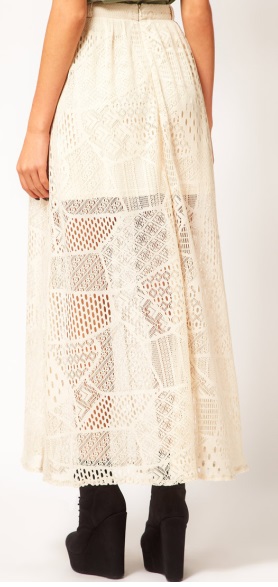 Trendy Maxi Skirts
If you have tried wearing it, you will know the feeling they give you- they're comfortable, indulging, giving you that unrestraint perception. The classic maxi skirts that are boosted with lace, will add you a vivid and glimpse stylish touch.
You can wear them as a day skirt, all around the year, with boots, flats, sandals, in combination with jackets, cardigans, tops.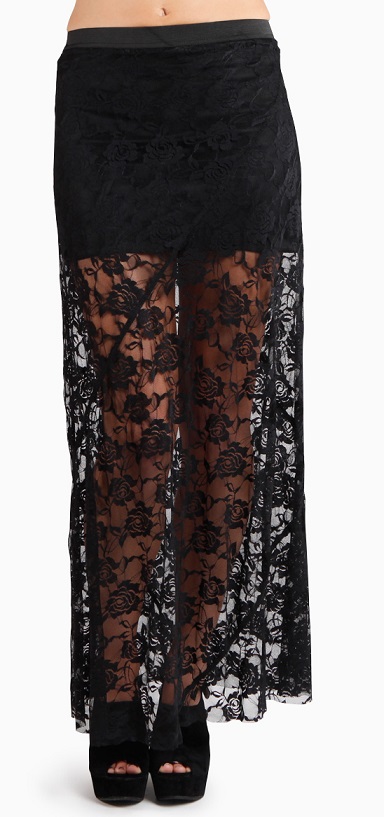 One of the tips for choosing a right pair of shoes – with maxis everything goes, except of the ballet shoes and wedges. They just don't fit the length of the skirt and wreck the overall appearance. Beware of the length of the lace maxi skirt, the preferred length is to your ankles, too long or too short will ruin the look.
Use versatile accessories to lift your style and make it unique every time you wear a lace maxi skirt.
Choose different necklaces, bracelets or earrings. Every piece of accessories makes you look unique. You can either be a feminine seductive woman or rock stars, only by choosing different add on boots, metallic bracelets.
Maxi Skirts For Events and Parties
Black lace maxi skirt gives you a wonderful opportunity to shine at a dinner party, combine it with soft top, with or even better – without any jewelry, but add some dramatic make-up that will give you an extra touch of your dark and seductive feminine side.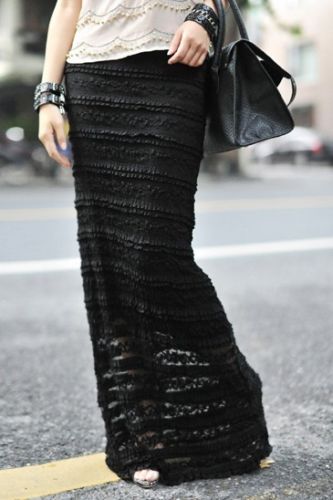 Want to turn heads at a weekend night out? Try out a red lace dress! Add shine with jewelry and party make- up look! You will not go unnoticed! After the party, turn the dress into a day look with a more relaxed add on like shirts or blazers.
There is a solution even for the hopeless romantic souls out there. Try out different colors. What about a nice white lace maxi skirt? They are seducible, yet tender. Opt out for a more color to lift up your look, or just play the game of romance and innocence by adding some light floral shirts or tops. Play with a hat and sunglasses, for a perfect look for a beach walk in the sunset.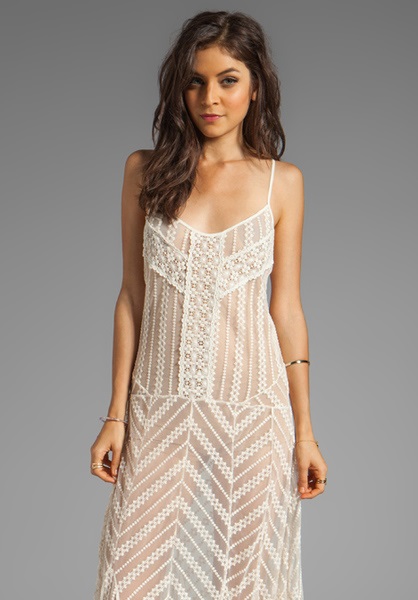 Even more dreamy and nostalgic look will give you a nice, soft, cream lace maxi skirt. Play a role of a utopian princess in it. Keep the look smooth and dreamy. Don't use any knock out colors or jewelry, stick to the feeling of sensuality.
Still not sure what kind of a maxi skirt would fit you? It's not that hard at all. Choose a style that suits your personal statement: a princess, a seductive dinner party queen, rock star at a Saturday night party, or a dreamy cozy girl in a summer afternoon. So many options you can play with. Just let your imagination get loose! Just wear them, and be the charm of the party you are attending.
It is time to bring out the woman in you wearing these classic clothing made of lace fabric. Since lace material is highly associated to feminine qualities, there's no doubt that wearing this kind of fashion will also highlight your innate womanhood. With the hottest styles and designs on lace fashion there surely is one outfit that would best fit you. It will be a great investment since lace fashion never goes out of style and continues to thrive in the every dynamic world of fashion trends. Go find one for yourself and give yourself a touch of feminine now.