Why Long Sleeve Red Dress Creates A Lasting Impression
 No matter whether it is an awards night, home coming or prom night, long sleeve red dress is sure to make heads turn. It is quite practical to opt for a long sleeve dress in bright warm shades if one directly wants to make her presence felt. Both of these two features when incorporated in a formal wear, go for a heady cocktail.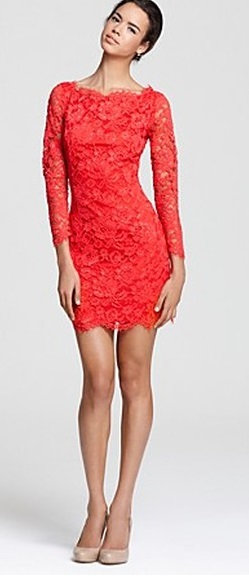 Of course, the reasons are quite obvious:
Red is one of the brightest warm colors, add a dash of bright color to bland dress codes.
Red blends well with the skin undertone and hair color of majority of the ladies.
Long sleeves make a chic fashion statement yet project a classic appeal.
Long sleeves go a long way in flattering and defining the plus points of toned arms, they are equally good at hiding the flab on heavy arms as well.
The long sleeve red dress is just perfect for many types of occasions.
There are many styles to choose from when one goes for a long sleeve dress. Limited detailing is preferable. A minimal of detailing on the dress doesn't distract the focus and is instrumental in highlighting the other features such as styles for long sleeves, texture, neckline and accessories. Long red gowns in flowing silks, satin and crepes are an ideal wear for formal dinners and awards functions. Red lace dress in varying lengths exudes delicacy to the fullest. Georgette, chiffon and velvet blend equally well with the vintage as well as modern dressing styles. At this point, it is imperative to explore why some styles that incorporate these two highlighted features are more popular in comparison to others.
Red long sleeve dress with a minimal detailing is appropriate for cocktail events as well as work related event. A top choice for occasions and evening parties, one can easily alternate the style according to the theme of the event by choosing the right accessories. One can indulge in stylized and plunging necklines at the front and backless style to create a balance with the long sleeves. With sequins, embellishments and embroideries on a back burner, the stress is on the texture which could be satin, silk, crepe or chiffon. The variation in length of the dress is also responsible for creating an impression. It is wise to choose a style according to the body shape rather than going with the flow because the dress should be able to accentuate the positive features and downplay the negatives.
Lace dresses symbolize elegance and beauty. They present a sweet and sassy look. The focus in such long sleeve dress is on the texture of the fabric which is breezy and delicate. The soft floral lace with intricate scalloped trims flatters the necklines and hems. A whole body con dress with long lace sleeves or a full lace dress, they steal the show with their subtle yet glamorous appeal. The red lace long sleeve dress is a dazzler when lace is inserted in panel, and tops with flowing lower in chiffon. Whatever the style be, long sleeve dress in red lace defines the feminine silhouette at its best.
Long sleeve red mini dress is one style that is actually popular with the young and the not so young alike. This goes for sensuality and glamour. Perfect to create a flutter in the party, this is one dress that can be worn for prom night as well as a formal event. The message it conveys is loud and clear, the lady is out to woo the crowd. Detailing with embellishments and embroideries or plain outfit with deadly, plunging neckline, nothing can go wrong with this type of dress style. Right accessories can enhance the look a million times.
Long sleeve red dress is a sure outfit to wear in order to show one's preference in dressing style. The warmth of red color matched with the classic appeal of long sleeves express the warmth of heart and glow of confidence; this is actually what makes it the most preferred style for displaying emotions.